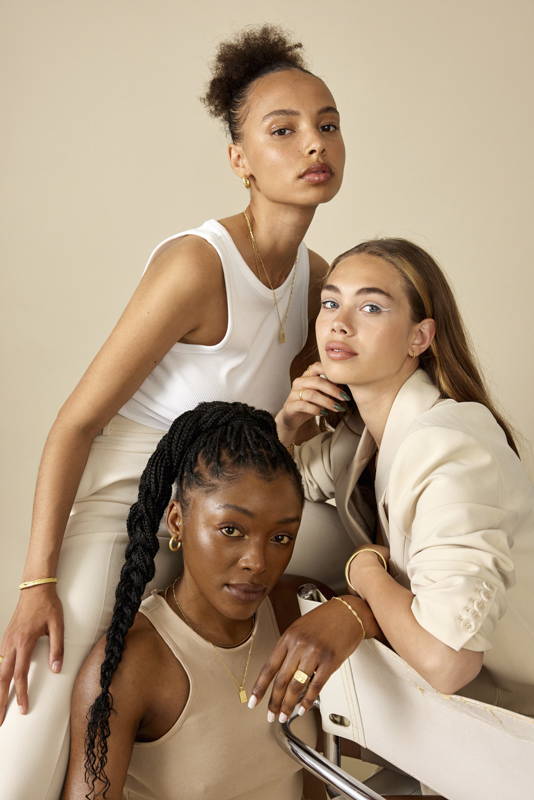 Diaz Jewellery is an upcoming Danish jewellery brand based in Copenhagen.
At Diaz we embrace diversity and our jewellery are designed to appeal for everyone, free of racial segregation, ethnicity and cultural identity. Our goal is to create pieces that will empower young women to feel beautiful, confident and through our brand, motivate and evoke their inner power and ability to manifest their biggest dreams.
Good quality is among our first priorities, therefore all of our products are crafted from recycled precious metals. More specifically made in 18kt gold plated sterling silver. All designed in Denmark and produced at our family-owned manufacturer in Spain.
We can assure that your piece will last a really long time if you treat it with love and take good care of it.
Everything from the design process to the finished product is created with love and passion, and we hope your Diaz pieces will bring positivity and inspire you to become the best version of yourself.
Isabella Diaz is 24 years old and the founder and designer behind Diaz Jewellery.
As half Cuban and half Danish her mixed identity is reflected in the design DNA by intertwining nordic simplicity with tropical elements.
At the moment she studies Jewellery, Technology and Business at KEA, which is why Diaz Jewellery is not a full-time company yet. The dream after finishing her bachelor degree is to build a strong company with a diverse team.
After 2 years in the making, Isabella launched Diaz Jewellery in May 2020, just before studystart.
The goal ever since has been to maintain a consistent growth and expand the brand while focusing on the studies as the first priority.
"My vision is not only to create unique jewellery, but to spread positivity and motivation through my brand.
I believe that hard work, consistency and passion can make your biggest dreams become reality.
I really appreciate the support towards Diaz Jewellery. To me, you are not only a customer, but someone who supports my dream. Therefore, it's my desire to give each of you a special feeling when wearing my designs. I want to show you my appreciation through the best products and services I could possibly give you."
LOVE @isabella_diazz
Diaz Jewellery wants to have a positive impact on the environment in the pursuit of a greener future and supports alternative production initiatives. Therefore we only use recycled materials to reduce waste and each piece is finished by hand at our local manufacturer in Spain.
We believe that jewellery is something unique, as the materials are made by our earth itself.
Furthermore, it is so beautiful that you can remelt old pieces and create new magic with it.
Most of our packaging is made from 70-100% recycled materials, and we constantly think of new ways to improve
the brand to become even more ethically responsible.
With that being said, we all need to start from somewhere.
We are not near where we want to be yet, but with each day we take responsible decisions
for everything we do trying to minimize the negative impact.
WHERE TO FIND US IN THE CITY?
Currently you can buy Diaz Jewellery at three locations in Copenhagen.
@censuum

Nørre Farimagsgade 47
1364 Copenhagen
Hours
Monday - Thursday
10.00 - 18.00
Friday
10.00 – 19.00
Saturday
10.00 - 17.00
@censuum
Lyngby Storcenter 1, st. 8
2800 Kongens Lyngby
Hours
Monday - Friday
10.00 - 19.00
Saturday - Sunday
10.00 - 17.00
@studio27.dk


Studiestræde 27
1455 Copenhagen
Hours
Monday - Friday
10.00 - 18.00
Feel free to email us and book a private appointment at one of the physical spaces.
We are always here to guide you!